| 2017 Musicians | Time |
| --- | --- |
| Brian Brown The Elder | 10:00 a.m. |
| Danielle Mohr | 11:00 a.m. |
| Carlos Peña | 12:00 p.m. |
| Leon Majcen | 1:00 p.m. |
| Brian Brown The Younger | 2:00 p.m. |
| Mwiza | 3:00 p.m. |
| Tyler Costanzo | 4:00 p.m. |
Brian Brown the Younger
Brian Brown the Younger is a musician from Tampa playing soulful instrumental guitar with influences from trip hop, post rock, psychedelic rock, and Americana. His fans have described him as being a "pretty alright dude" and having a "mega chill vibe, man".
Brian is a member of Florida Voices for Animals and is very happy to bring his music to Tampa Bay Veg Fest.
---
Brian Brown The Elder
Brian Brown the Elder is a folk musician from Cape Coral, playing music from the green hills of Ireland and from the winding roads of America.
---
Carlos Peña
The Colombian retro-folk musician, and stunning solo performer, Carlos Pena has announced his single entitled Vida Peregrina, will be released on April 28th. The song was inspired by Trova Cubana, and the intricate folk-blues of Martin Sexton. Vida Peregrina was recorded at Ar&co Studios and was produced by David García "Writing for Vida Peregrina was the antidote that helped me break through my doubt and fears about my future and the meaning of my actions in a turbulent moment of my life," says Peña. "It's almost like I was saying to myself, 'Hey, don't give up, keep going, don't lose your faith in yourself and what you are doing, That's the kind of song I wanted to make the most; a song that can help giving you a new sense of hope."
---
Leon Majcen
Leon Majcen is an acoustic singer/songwriter from Clearwater, FL, whose original songs are listened to on a daily basis by a national audience on SiriusXM's The Coffee House channel. Leon first got his start by playing at local open mic nights at coffeeshops and bars in the area. After writing his first song at only ten years old, he continues to write and produce his material while constantly developing his sound and image. With a rapidly growing fan-base, Leon humbly continues to pursue his passion by performing at various Tampa Bay locales and writing meaningful, heartfelt lyrics that relate to real life experiences of his and others around him. With just his voice and guitar, Leon Majcen's charming melody has drawn comparisons to the works of John Mayer and The Lumineers as well as Bob Dylan and Johnny Cash.
---
Danielle Mohr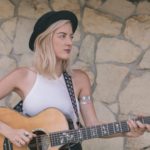 Born and raised in Dunedin, this native Floridian is an acoustic guitarist, vocalist, and singer/songwriter who is quickly gaining traction as a full-time musician. She has been a featured artist on WMNF's 88.5 Florida Folk Show, Acoustic Peace Club, and Musician's Wanted. She performs all over the Tampa Bay Area. Most notably, Ruth Eckerd Hall, Capitol Theatre, and the Clearwater Jazz Fest. At one of her live shows you can expect to hear clever and thoughtful lyrics dance playfully over her eclectic guitar melodies. Natural talent flows freely through Danielle as she artfully engages her audience to feel the music while enjoying her songs. She puts her mark on all music she plays, be they originals or covers. Danielle Released her debut cd "Momentum" August 22nd of this year. With Randy Rockit Barr as the producer and Chad Carlson as the engineer, this is a project you can't miss out on hearing. Now on most streaming sites!
---
Mwiza
Mwiza is a singer-songwriter from St. Petersburg, playing original acoustic alternative music that can fall under the genres of rock, folk, & jazz. His sound is soulful and mellow, and creates good vibes all around.
---

Tyler Costanzo
Tyler Costanzo is an acoustic guitarist and a singer songwriter from St Petersburg, raised with a love of music and a drive to pursue it. Many of his songs based on real life situations. His favorite genres are hip hop, pop and alternative rock.
---