| Chefs | Food Demonstrations at Tampa Bay Veg Fest | Time |
| --- | --- | --- |
| Brian Lairby | "Make Your Own Seitan!" | 10:30 a.m. |
| Evelisse Capo | "Amazing Vegan Burgers" | 11:45 a.m. |
| Caroline Garber | "Vegan Kimchi" | 1:00 p.m. |
| The Vegan Gents | "15 Minute Vegan Cheese" | 2:30 p.m. |
| Naomi Green | "How To Roll Vegan Sushi" | 3:45 p.m. |
Brian Lairby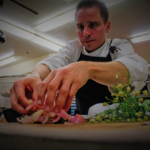 As a young child, Smokin Bowls Food Truck owner and Chef, Brian Lairby spent treasured time with food at its very source, in nature. Brian fondly remembers summers at his uncle's farm, helping pick berries and vegetables for his mother, grandmother and great grandmother, who were revered for their culinary skills. At that time in his life, a career in the kitchen was the furthest thing from a young boy's mind, but the family matriarchs' influence left an indelible impression.
Brian joined the Job Corps in 1996 to train in building and construction management, where he met an early mentor, who was a Chef with the Treasure Island Advanced Culinary Arts program. Intrigued by the possibility of a new creative outlet to express himself and his creativity, Brian joined the program in 1997, the same year he turned to a plant based diet. Upon completing his studies two years later, he embarked on a fifteen-year career with Hyatt Hotels' food and beverage team that took him from Phoenix, up and down the West Coast of the U.S., from San Diego to Monterey to San Francisco and Seattle. Through his travels, Brian studied and learned various cultural cuisines and their cooking techniques, which is the main thread in his cooking fabric today.
During his time with Hyatt, Brian progressed through a variety of roles from Culinary Supervisor to Executive Sous Chef to Interim Executive Chef at the award-winning Pacific's Edge Restaurant in the exclusive Carmel-by-the-Sea community in Northern California.  Seeking a change in scenery and the desire to be closer to family, the next stop in Brian's career brought him to Tampa, where he discovered an entirely new opportunity to make an impact as Executive Chef at the Le Meridien Tampa. Here Brian launched an idea for Le Meridien's first vegan wine dinner. Embracing the opportunity to showcase this cuisine to not only his team but the intrigued guests, proved to be the most attended specialty dinner the hotel had hosted.
Now, with his own Food Truck, Brian is able to have his own "test kitchen", preparing menu items that bring him fond memories of his childhood and early years traveling the west coast while also bringing originality and a style that truly speaks to the West Coast Style Cooking. Paying homage to his upbringing and training along the way is all about what Brian offers his guests.
---
The Vegan Gents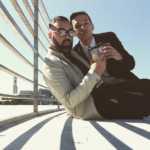 The Vegan Gents are two guys who try to embody what it means to be true Gentlemen by creating a non discriminative space, where vegans and vegan-curious can come together and enjoy some great company, style, and great food. Danny and Manny have been together for 10 years and recently were afforded the right to get married. They lived in NYC, Miami, LA, and are now back to Tampa, allowing them to experience many different cultures and taste the foods that came with it. On that journey, they've found an appreciation for all things quality and live by the notion Quality over Quantity. Manny and Danny know they can't change the entire world, but they try to make it a better tasting one. They have found a true passion for helping and educating others.
---
Evelisse Capo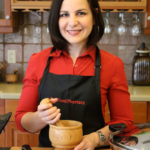 Evelisse Capó holds a Doctor of Pharmacy degree and practices as a health and nutrition educator, lifestyle coach and vegan plant-based cooking instructor in Southwest Florida where she has resided since 2005. She completed a Bachelor's degree in Science at Purdue University and Pharm D. training at the Philadelphia College of Science.
While practicing clinical pharmacy, she witnessed the pain and suffering of many cancer and heart disease patients in hospitals and long-term care institutions. After questioning the effectiveness of the conventional approach to treating chronic conditions, Evelisse switched to a eating a whole food vegan diet. She enjoys creating wholesome recipes inspired by her Puerto Rican roots with a vegan twist.
Dr. Capó has completed continuing education in plant-based nutrition, including the eCornell T. Colin Campbell Plant-Based Certification, The Wellness Forum Certified Health Educator Program, and VEGEDINE Vegetarian Nutrition Training.   Evelisse offers health coaching and "Plants over Pills" workshops through her consulting practice, The Food Pharmacy. She also teaches PCRM's Food for Life Program, facilitates CHIP (Complete Health Improvement Program), and is an instructor for the T. Colin Campbell Center for Nutrition Studies. Dr. Capó was also involved in the GEICO Workplace Nutrition Study coordinated by the Washington Center for Clinical Research.  This research study provided evidence of the power of a low-fat plant based diet in managing diabetes and weight loss.
Together with her husband and business partner Sig, Evelisse has raised their four vegan children with an understanding and love for healthy whole plant foods.  As a family, they work together to bring awareness about the benefits of a plant-strong lifestyle for health, animal welfare, and the environment.
For more information about Dr. Capo and the Food Pharmacy, check out her website http://www.thefoodpharmacy.com/
---
Naomi Green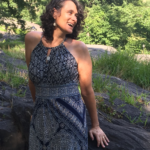 Naomi Green is a certified Vegan Lifestyle Coach & Educator who specializes in helping people who are sick and tired of being sick and tired go vegan and take back their health (or just add more plant foods to their diet!) She has been coaching private clients and presenting cooking workshops, cooking parties and corporate wellness program events around the Tampa Bay Area since recovering from breast cancer treatment in 2014 and she credits going whole food vegan, saving as many animals as possible and protecting our planet with much of her healing and happiness.
Have you ever wanted to learn how to roll vegan sushi and see how the delectable rolls materialize right before your eyes? And, what can you put in it that's not raw fish?
Watch Vegan Coach Naomi Green show you:
-How to make and use vegan sushi sauces, dips and condiments
-How to master the two most basic techniques of vegan sushi-rolling
-How to use your creativity with plant-based ingredients to create different types of vegan sushi rolls at home any time you want, in minutes
-What plant-based ingredients are necessary to making vegan sushi rolls
-What supplies are essential to rolling up successful vegan sushi at home
---
Caroline Garber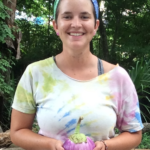 Caroline Garber is the Education Program Manager at Sweetwater Organic Community Farm. She earned her Bachelor of Science degree in Environmental Science and Policy from the University of South Florida and has called Tampa her home for the past 6 years. She loves food with a fervor and it delights her to share her passion with others. Caroline's foray into fermentation began as a side project from traditional preservation methods like pickling and canning. The more she learned (and tasted), the deeper she was hooked. She feels that preserving your own food is a small yet mighty way to rebel against the homogenized, over-processed, commodity "food products" being sold to people en masse. Every time she salts a new crock of sauerkraut or watches the effervescence in a batch of kombucha, she is excited knowing she is eating well and sticking it to the man at the same time. She hopes to show people how easy and fun it is to start fermenting their own foods and spread some more "wild cultures" into the pre-packaged world!   
Kimchi is a spicy, sour, fermented vegetable fusion from Korea. Fermented foods are a hot topic and it's easy to see (and taste!) why. Whether you're interested in the "probiotic" health benefits or just want to be frugal by fermenting your own, all will find something interesting in this course. You will learn some of the history and science behind fermented foods and walk through the steps to making your very own kimchi.