| 2017 Speakers | Topics | Time |
| --- | --- | --- |
| VeganEvan | "Intro and Q&A" | 10:00 a.m. |
| Jim Janolek | "My Journey of Vegan Inspiration and Transformation" | 10:30 a.m. |
| Korin Sutton | "Where's the Protein Being Vegan?" | 11:30 a.m. |
| John Corry | Plant Pure Nation Movie Intro  | 12:30 p.m. |
| Monica Aggarwal, MD/Cardiologist | "The Role of Diet in Chronic Illness" | 1:00 p.m. |
| Sid Garza-Hillman | "Raising Healthy AND Happy Vegan Children"  | 2:00 p.m. |
| Evelisse Capo | "Oils: The Good, the Bad and the Ugly" | 3:00 p.m. |
| Ellen Jaffe Jones | "Vegan Sex"  | 4:00 p.m. |
VeganEvan – Emcee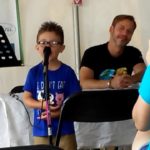 VeganEvan is a passionate and talented young animal advocate committed to creating a healthy, compassionate, and regenerative world through his amazing work as Co-President of Animal Hero Kids, as well as through his own personal ideas and strategies for animal activism.
Animal Hero Kids is an all volunteer organization with a mission to empower children to be teachers and advocates for a solutionary lifestyle. VeganEvan has inspired many through his powerful speeches and knowledge. At only 7 years old, Evan has the potential to change the world through the incredible influence he has already had on people he's met.
VeganEvan has spoken in front of large audiences at several major events throughout Florida, including Central Florida Earth Day and Gainesville VegFest. He has been awarded the Russell Simmons Creative Animal Hero Kids Award, and in 2016, he earned PETA's Cutest Vegan Kid award. Evan, his mom, and grandmother are true solutionaries (people who choose to be a part of the world's solutions) and have put in an extraordinary amount of effort toward the vegan movement. The 3 of them recently started up a new business called 3GV designs (3 generations of vegans) and are using their products to support animal sanctuaries and solutionary organizations all throughout the country!
Evan is excited to be a part of this year's Tampa Bay Veg Fest!
---
Taylor Morland – Emcee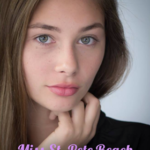 Taylor Morland, Miss St. Pete Beach Teen USA 2018, is a Freshman at St. Petersburg Catholic High School where she is involved in SGA, Youth Ministry, Volleyball and also serves as a school Ambassador. Taylor has been a member of Peta Kids since she was old enough to understand what cruelty to animals really meant. She is determined to help raise awareness with her peers about healthier eating habits and the benefits of an all vegetable diet.
Taylor will be representing St. Pete Beach at the Miss Florida Teen USA Pageant December 14-17, 2017 at the Straz Center in Tampa. Todd Chrisley and the Chrisley Family of the hit TV Show "Christly Knows Best" on the USA Network, is the new Directorship for the Pageant. This year's pageant will be featured in the upcoming season. Miss Morland's platform is Women In STEM and she also wants to bring attention to animal cruelty and bullying, as she was a victim at multiple schools prior to finding her "home" with a faith based education at St. Petersburg Catholic High School. While not in school, Taylor is a professional model signed with Wilhelmina Models in Miami, Florida. She has been a professional model since the age of 9 months old, when she did her first shoot for H&M.
---
Jim Janolek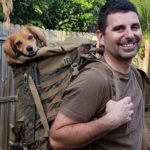 Jim Janolek was born a meat eater. He was a Marine. He was an animal shelter manager who euthanized dogs. He was an undercover investigator for PETA. And then he became vegan!
His lifestyle change led him to new heights including hiking the entire Appalachian Trail to raise awareness for veganism.
He is now a certified massage therapist and a teaches yoga to veterans. He survived a stroke in his eye and when he needed a heart stent, his doctor suspected he would have needed it 20 years earlier if he hadn't become vegan.
Come learn about Jim's transformation and be inspired to make a difference for your life and for the animals!
---
Korin Sutton
"Where do you get the Protein? I get asked that question every single day especially as a personal trainer and pro bodybuilder. A lot of people are misguided on protein and where you can get it from. There are so many different sources of protein you can retrieve without harming a single soul. The Earth has all the nutrition we need to survive and become extremely strong and healthy individuals. We do not have to filter out nutrients through another species because we can get all the nutrients we need from the earth.
Another misconception especially for most individuals that workout "I will lose my muscle mass". I tell most of my clients that yes you will lose some muscle mass but, the muscle that you have is not natural. Most animal proteins are highly filled with GMO's and steroids. Even if you get organic beef or chicken the animals are still feed with GMO soy and corn. I myself used to weight 220 pounds and I was considered somewhat healthy carrying about 18% body fat. The difference now is that I'm cleaner, less sluggish, more cut, and my mental clarity is ridiculous. My energy levels are always high, my libido increased a lot, and I'm actually 10x stronger in the gym when I workout. I'm currently 181 lbs and I hold about 4 percent body fat.
Being vegan has so many health benefits, if you would like to know more about being on a plant based diet, or learn how to live a healthier lifestyle for ones who are not ready to give up animal protein all together I'm here to help!" Learn more about Korin and his journey by checking out the links below.
Where you can find him:
---
John Corry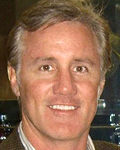 Veteran TV Producer John Corry has created and supervised over 200 hours of television documentaries, including the popular long-running animal series SAFARI TRACKS for FOX in syndication, THE COLOR OF WAR and SWORN TO SECRECY for the History Channel, CELEBRITY WINGS for Discovery Networks and WEAPONS AT WAR for A&E Network. John's feature film producing credits include PLANTPURE NATION, FORKS OVER KNIVES, AYN RAND AND THE PROPHECY OF ATLAS SHRUGGED, TATTOO NATION, THE BOWDEN DYNASTY, Universal's hit action-comedy THE RUNDOWN, the 3D animated THE TEN COMMANDMENTS and THE FACE OF EVIL: REINHARD HEIDRICH. John's television specials include THE WILD YAK PATROL for Animal Planet and THE LONG MARCH for History International. His three-hour special THE LAST DAYS OF WWII was nominated for an Emmy and his acclaimed all-color WWII series THE COLOR OF WAR was recognized with the CINE SPECIAL JURY AWARD as the Best Network or Cable Historical Program of 2003.
---
Dr. Monica Aggarwal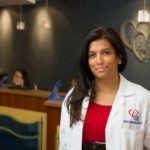 Monica Aggarwal, MD, FACC, is an assistant professor of medicine in the University of Florida Division of Cardiovascular Medicine. She received her medical degree from Virginia Commonwealth University School of Medicine and subsequently went on to complete a residency in internal medicine at Tufts-New England Medical Center. She then completed a cardiology fellowship at the University of Maryland and later continued her training at the University of Arizona, where she completed an integrative medicine fellowship.
Serving as the director of nutrition in cardiology, Dr. Aggarwal focuses on promoting food as the foundation of healing and for its medicinal value. Her integrative interests include teaching mind-body techniques to aid in healing, along with community outreach and educational seminars for the public on topics such as nutrition and how to eat. Her research interests encompass how nutrition impacts cardiovascular disease and inflammatory markers.
Board-certified in cardiology, echocardiography and nuclear cardiology, she is a fellow of the American College of Cardiology, where she is a member of the nutrition council working on nutrition policies for the nation. Clinically, she specializes in treating women with heart disease and their prevention of heart disease. Additionally, she is the author of the book "Finding Balance: Empower Yourself with Tools to Combat Stress and Illness," which outlines 10 prescriptions to help guide people to better health.
---
Sid Garza-Hillman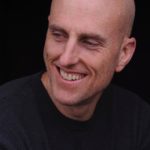 Sid Garza-Hillman, podcaster and YouTuber, is the author of Approaching the Natural: A Health Manifesto and Raising Healthy Parents: Small Steps, Less Stress, and a Thriving Family. He graduated from UCLA with a BA in Philosophy, and is a public speaker, certified nutritionist, and Small Steps Coach-teaching people around the world his unique Small Steps approach to healthy living at www.smallsteppers.com. He is the Wellness Programs Director at the Stanford Inn Eco-Resort, an ultra runner, and Race Directorr of the Mendocino Coast 50K trail ultramarathon. Sid lives on California's Mendocino Coast with his wife and three children, horse, dog, and two cats.
Website
s
:
www.sidgarzahillman.com
& www.smallsteppers.com
Approaching the Natural Podcast:
iTunes, Stitcher, etc.
YouTube Channel: Sid Garza-Hillman
Social Media
: @sidgarzahillman
---
Evelisse Capó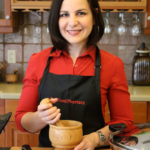 Evelisse Capó holds a Doctor of Pharmacy degree and practices as a health and nutrition educator, lifestyle coach and vegan plant-based cooking instructor in Southwest Florida where she has resided since 2005. She completed a Bachelor's degree in Science at Purdue University and Pharm D. training at the Philadelphia College of Science.
While practicing clinical pharmacy, she witnessed the pain and suffering of many cancer and heart disease patients in hospitals and long-term care institutions. After questioning the effectiveness of the conventional approach to treating chronic conditions, Evelisse switched to a eating a whole food vegan diet. She enjoys creating wholesome recipes inspired by her Puerto Rican roots with a vegan twist.
Dr. Capó has completed continuing education in plant-based nutrition, including the eCornell T. Colin Campbell Plant-Based Certification, The Wellness Forum Certified Health Educator Program, and VEGEDINE Vegetarian Nutrition Training. Evelisse offers health coaching and "Plants over Pills" workshops through her consulting practice, The Food Pharmacy. She also teaches PCRM's Food for Life Program, facilitates CHIP (Complete Health Improvement Program), and is an instructor for the T. Colin Campbell Center for Nutrition Studies. Dr. Capó was also involved in the GEICO Workplace Nutrition Study coordinated by the Washington Center for Clinical Research. This research study provided evidence of the power of a low-fat plant based diet in managing diabetes and weight loss.
Together with her husband and business partner Sig, Evelisse has raised their four vegan children with an understanding and love for healthy whole plant foods. As a family, they work together to bring awareness about the benefits of a plant-strong lifestyle for health, animal welfare, and the environment.
For more information about Dr. Capo and the Food Pharmacy, check out her websitehttp://www.thefoodpharmacy.com/
---
Ellen Jaffe Jones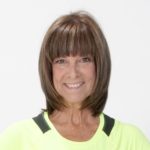 Ellen Jaffe Jones is an inspiring motivational speaker, personal trainer, running coach, prolific vegan author, and instructor of healthy cooking classes. As a former investigative reporter and anchor for 18 years in major market TV news, Ellen won 2 Emmys and the National Press Club award. She became known as the "Earth Mother in a Suit" when she left TV and became a successful Wall Street financial consultant for 5 years. She wrote her first book, Eat Vegan on $4 a Day, after seeing too many news stories saying eating healthfully was impossible on a budget. Ellen, an accomplished endurance and sprint runner, has won 118 5K+ Age Group awards since 2006. She placed 3rd in 2017 in the US National Senior Games, W60-64 4X1 Relays, 5th in the 800M and 7th in the 1500 & 400M. She was 1st in Florida's W60-64, 50, 100, 200, 400, 800, and 1500 meters races in 2014. In 2014 Ellen was also named PETA's "Sexiest Vegan over 50." Experts say it is rare for someone with her sprint times to be able to finish a marathon. But she's done that twice, along with 9 half marathons. She combined all of her skill sets with her latest releases, Vegan for One and Vegan Sex. She is also the author of Vegan Fitness for Mortals, Kitchen Divided, and Paleo Vegan. Ellen is a Certified Personal Trainer by the nationally recognized Aerobics & Fitness Association of America and speaks at numerous VegFests across the country.